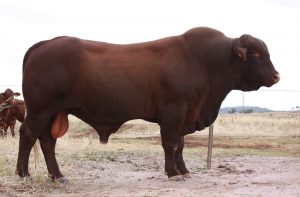 Hallmark H37 (P), was purchased at the 2015 Santa Central Sale as a very young led bull. He was selected for his eye appeal, perfect quiet temperament, deep dark red skin type and he was an out cross from any breeding that is in our herd. He carries a lot of Big Sir bloodlines ,these lines carry strong poll breeding and have bred well over the years for many studs.
He has developed into a quality sire, is moderate framed with a mid maturity pattern well muscled and he is throwing consistent quiet, dark skinned quality sons and daughters. He seems to be crossing well with the majority of our blood lines, with a good number of sons and daughters retained.
Hallmarks 2018 Sale bulls are some of the lead bulls in their age group.